Food Service Equipment
Giles produces a wide variety of commercial equipment, which is marketed and sold worldwide ... electric and gas fryers, recirculating hoods, food preparation, hot food merchandisers, warming cabinets, rotisseries and various support products to fill the needs of any foodservice operator. New products are being designed and introduced every year to meet market demand and to provide our customers the value they deserve. Giles remains a privately owned company, striving to perpetuate the genius of Mr. Giles and Mr. McNeal and to be an innovative leader in the foodservice equipment industry. We are dedicated to producing High Quality, Durable, User-Friendly and Cost Effective foodservice solutions for customers, both large and small.
LT-4 Xpress-peditor Landing Table System
The versatile Xpress-peditor Landing Table System features a multifunctional piece of foodservice support equipment that serves various needs in a busy kitchen and serving area.
Features
PORTABLE
Portable Dump Station - easily dump cooked product directly into serving pan, reduces spillage and waste.
FIFO SYSTEM
• Use as a FIFO rotation system - place pan of fresh cooked product on rack beneath funnel ... transport to point of sale ... dump older unsold product on top of new (FIFO) and place full pan for serving.
DURABLE
Durable stainless steel construction; racks & funnel are easily disassembled without tools for clean-up.
NULTI-FUNCTIONAL
Saves space in a crowded kitchen.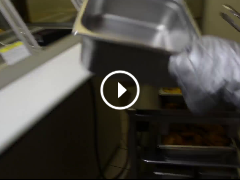 video embed code by VideoLightBox.com v3.1